Bible Institute
Ambassador Baptist Bible College & Graduate School
In August of 2007, the college was moved from its previous location of 1 ½ acres in Paso Hondo, Allende (40 miles south of Monterrey), to the 15 acre Palms Youth Camp and Convention Center about 25 miles southeast of Monterrey at Hacienda El Refugio, Cadereyta, N.L.
The move has been a tremendous blessing giving us more opportunity for expansion and providing tilled land to grow food for the school. We have been able to eat from some of the "fruit of the land" from the vegetables growing at The Palms Camp.
With the three year Bible Graduate course of study, we also offer BA and MA Degree programs through I.N.S.T.E.P. of Louisiana Baptist University. (Download BA PDF Brochure); (Download Master's PDF Brochure). Our school is now known as the Ambassador Baptist Bible College and Graduate School (Instituto Bautista Bíblico Embajadores y Seminario). (Click here to view a PDF Brochure of the Institute in general).
On May 15, 2009, we celebrated the first graduation of ABBC at its new location at the Palms Youth Camp. The 2008-2009 school year marked the first time to offer the MA program through INSTEP of Louisiana Baptist University. It is a first for the INSTEP program here in Mexico.
We graduated eight third year, nine BA and nine MA students. Plus for the first time, an Honorary Doctor of Divinity Degree from LBU was awarded to a Mexican pastor. The first recipient of this honor is Pastor José Reyna of Maranatha B. C. in Monterrey, Mexico. So we had 27 receiving diplomas and degrees this year, the most by far in the history of the college!
That year we put up tents and had everything done at the campus. There were over 800 people from four different states in Mexico attending! After the service, a dinner was provided and some great fellowship until late into the night.
Our guest speaker was Dr. Mark Crook from LBU who preached a tremendous message. Several trusted Christ as their Savior! Dr. Crook handed out the first MA degrees through INSTEP here in Mexico as well as the first D.D. Degree and received a special award from the college presented by yours truly.
Thank you for your prayers and support for this ministry. God bless.

Instituto Bautista Biblico Embajadores y Seminario
"Pursuing the Goal"
---
Bible Institute Staff
---
College Classrooms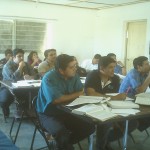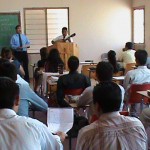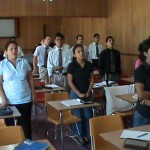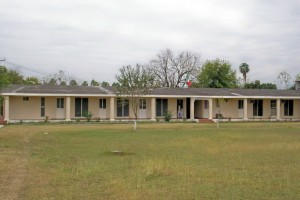 ---
Graduation Photos