Mexico Updates
Mexicans fear 'losing' country to Zetas drug cartel
Once a safe zone, the city of Monterrey has been compromised by gangs
Much has been made of the risks Mexico's drug war poses to tourists, but the most immediate threat is to Mexicans themselves, who are increasingly having to share their cities with criminal cartels.
As part of a weeklong series on the effects of the Mexican drug war, CBC News travelled to Monterrey, a city of four million people in the prosperous northeastern state of Nuevo León.
This cosmopolitan area is home to the biggest Mexican companies and hundreds of multinationals, and boasts the highest per-capita income of any city in Mexico.
After the Zetas drug cartel fire-bombed the Casino Royale in Monterrey, killing 52 people, Mexican President Felipe Calderon, pictured, denounced the unrelenting U.S. demand for drugs.(Ronaldo Schemidt/AFP/Getty Images )
In recent years, it has also become a home for the Zetas, the domestic drug cartel notorious for its assassinations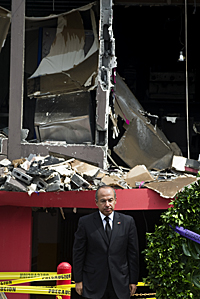 and bombings.
The Economist magazine reported that the rate of drug-related murders in the Nuevo León region had increased by 193 per cent from 2010 to 2011, owing largely to attempts by the Sinaloa drug cartel to oust the Zetas from Monterrey.
Alfredo Corchado, a Mexican-born American journalist who has covered the drug war for nine years, worries that the  Zetas' penetration of Monterrey will have repercussions for the entire nation.
"If we lose Monterrey, basically we lose the country," Corchado told CBC News.
Escalating Drug Activity
Mexico has been involved in drug production and distribution for decades, but its role as a supplier has grown considerably in the 2000s. It is the main foreign purveyor of marijuana and methamphetamine to the U.S. and the chief transit route for the country's cocaine and heroin.
Increased drug traffic has led to a proliferation of cartels and vicious turf battles.
Upon taking office in 2006, President Felipe Calderon launched a government offensive to stanch the burgeoning violence. Since then, almost 50,000 people have died – most of them involved in the narcotics trade – and the drug war shows no signs of abating.
Monterrey's wake-up call was the fire at the Casino Royale in August 2011. The blaze started after members of the Zetas doused the hotel entrance with gasoline and lobbed in a grenade. Their apparent motive: an unpaid extortion fee.
The fire claimed the lives of 52 people, most of them innocent bystanders, and was the bloodiest crime in Monterrey's history.
In the immediate aftermath, Calderon vented his anger on the U.S. He claimed that a steady supply of American guns and the U.S. appetite for recreational drugs is sustaining the cartels.
"The economic power and firepower of the criminal organizations operating in Mexico and Latin America come from this endless demand for drugs in the United States," he said.
It is widely held that one of the reasons Calderon's drug war is not achieving its goals is because Mexican police are being coerced or corrupted by the cartels.
During a riot at Monterrey's Apodaca Prison in February 2012, members of the Zetas murdered 44 members of the rival Gulf cartel. Thirty Zetas members managed to escape.
Investigators say the riot couldn't have happened without the complicity of prison guards and administrators.
---
---
FEBRUARY 2012
*  In Monterrey on Sunday 19th, a  Mexican Baptist pastor is seriously beaten, forced to give the attakers $10,000.00 pesos (about $800.00 U.S.), and his congregation was also robbed.
It seems as though the bad guys are periodically attacking the churches, national pastors and missionaries.
*  Recently the chief of police in Monterrey was gunned down as he arrived at headquarters.
*  (AP) MONTERREY, Mexico – Inmates set fire to mattresses and trash Tuesday after officials announced that three prisoners would be moved from the prison where 44 gang members were massacred this week to a maximum security jail in western Mexico.
Official: Guards aided Zetas prison break
Thick gray smoke rose from inside the Apodaca prison shortly after several federal police officers went in. Outside, about 50 women related to inmates clashed with police and set fire to a pile of cardboard and wood at a gate. Crying women threw stones at officers when they poured water on the fire from behind the mesh gate, while others tried to climb the fence. The women told a local television station they were desperate for information about their imprisoned loved ones.
Nuevo Leon state public security spokesman Jorge Domene Zambrano said a federal judge ordered that three inmates be transferred to the Puente Grande federal prison in Guadalajara. He said he couldn't identify the men until they arrived in Puente Grande.
Earlier Tuesday, three inmates were killed in a prison a few miles (kilometers) from the Apodaca prison, where authorities say 44 prisoners who belonged to the Gulf drug cartel were bludgeoned and stabbed to death by inmates from the rival Zetas cartel. The latest victims, two men and a woman, had been booked into the Topo Chico prison Monday on suspicion of kidnapping, Domene said. He said the men were stabbed to death in the prison's observation area and the woman in the infirmary. At the time the three suspects were presented to the media in early February, Domene described them as members of the Gulf cartel.
Sunday's massacre at Apodoca may have been the deadliest prison killing in at least a quarter century in Mexico. The prison's director and 40 guards are being held on suspicion of allowing imprisoned Zetas members to escape before the massacre. Nuevo Leon Gov. Rodrigo Medina said 16 guards have confessed to aiding the escape.
Of the 47,000 federal inmates in Mexico, about 29,000 are held in state prisons. That has drawn complaints from Medina and other state governors, who say their jails aren't equipped to hold members of powerful and highly organized drug cartels. Interior Department Alejandro Poire said the federal government plans to build six new federal prisons to add to the six the country already has. He said the federal government plans to house all federal inmates in its facilities by the end of the year.
*  Fighting between the Zetas and Gulf drug cartels has brought a surge of violence and other crimes to the Monterrey region, which is Mexico's third largest. On Tuesday, gunmen opened fire on a group of taxi drivers waiting at a taxi stand outside a shopping center in Monterrey, killing five. Witnesses told police the gunmen fired from a passing car, Domene said. He said authorities were trying to determine if the attack was related to the prison violence.
Taxi drivers are often hired by drug cartels to distribute drugs or work as lookouts.
___________________________________________________________________________________________________
JANUARY 2012
On January 31, , 2012, missionary friends John and Wanda Casias were brutally murdered at their home in El Cercado, (Santiago) N.L. We have known them for over 30 years even before they went to Mexico as missionaries. I have preached at their church, and they have been in some of our pastors' conferences at the Bible College. They have a strong church in Cercado. Pray for the church has they seek the Lord's direction and consider their next pastor.
Over the years they have sent several students to our school. There is one there now in her third year. They lived about 15 miles from us, and we have visited them at their home. They will be greatly missed.
It was the second time in a year that an American missionary was killed in Mexico. Nancy Davis, 59, was shot in the head in January 2011 when she and her husband were attacked at an illegal road block.
___________________________________________________________________________________________________
---
---
Things are dangerous in our area around Monterrey.

One of our students was robbed at gun point. They took everything including his laptop. The new home of one of our pastors was broken into before they had moved in their furniture. The bandits took all of the light fixtures, plugins, switches and all of the wiring out of the walls.
One half-mile from our home several men were robbed and one shot dead. Two children from one of our churches were kidnapped and interrogated by a drug cartel trying to find out who around our area had money, what their names were and where they live.
One of our staff men from the Bible Institute was returning from Monterrey to the school this past Monday with eight of our students. They had been at the hospital donating blood for one of our students (Perla or Pearl) that has leukemia, when our group came upon six vehicles with about 30 armed men surrounding another car. Suddenly they took off in different directions leaving behind two men that they had shot and killed. By the grace of God our students had not been caught up in the tragedy.
Please pray for the safety of our college students, staff, the people of our churches and their pastors. Please pray for our safety as we travel in several of these dangerous areas because of ministry needs. We are being as careful as possible. We do not leave home after dark and limit our traveling as much as possible and still be able to do the work of the ministry. Every time we leave the house, it is a bit tense until we arrive safely to our destination.
Along with praying for our safety, please pray for some special needs we have for the Bible College. We had to re-roof two staff houses and buy a new deep well pump in order to restore water to the college campus. I had to get an emergency loan of $8,000.00 from the Missions Office to cover these emergencies that we need to pay back as soon as possible.
Also, we are trying to buy a used Mexican vehicle for our commuting in order to maintain a lower profile and not have to use our van that is plated in Texas. Along with those needs, we also need increased financial support. Because of the economic crisis in the States, several churches have had to cut back on support. We have lost $400 to $500 a month in support while at the same time our ministry is expanding.
___________________________________________________________________________________________
Monterrey and Nuevo Leon:
The level of violence and insecurity in Monterrey remains elevated. Local police and private patrols do not have the capacity to deter criminal elements or respond effectively to security incidents. As a result of a Department of State assessment of the overall security situation, on September 10, 2010, the Consulate General in Monterrey became a partially unaccompanied post with no minor dependents of U.S. government employees permitted.
TCOs [The Cartel Operatives] continue to use stolen cars and trucks to create roadblocks or "blockades" on major thoroughfares, preventing the military or police from responding to criminal activity in Monterrey and the surrounding areas. Travelers on the highways between Monterrey and the United States (notably through Nuevo Laredo and Matamoros/Reynosa) have been targeted for robbery that has resulted in violence. They have also been caught in incidents of gunfire between criminals and Mexican law enforcement. In 2010, TCOs kidnapped guests out of reputable hotels in the downtown Monterrey area, blocking off adjoining streets to prevent law enforcement response. TCOs have also regularly attacked local government facilities, prisons and police stations, and engaged in public shootouts with the military and between themselves. Pedestrians and innocent bystanders have been killed in these incidents.
The increasing number of kidnappings and disappearances throughout Monterrey's consular district, is of particular concern. Both the local and expatriate communities have been victimized and local law enforcement has provided little to no response. In addition, police have been implicated in some of these incidents. Travelers and residents are strongly advised to lower their profile and avoid displaying any evidence of wealth that might draw attention.
---
---