2008 Conference
South Of The Border Conference 2008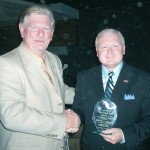 The following is information and pictures from the November 2008 Conference:
We just finished our annual November Pastors' Conference at the Ambassador Baptist Bible College with Bro. Dave Shafer (Finley, OH) as our main quest speaker. He received a glass plaque in remembrance of his participation in the conference.
The morning sessions were held at the college campus under the new open-air tabernacle, and the evening sessions were held at the Allende city auditorium to accommodate the larger crowds.
Other American pastors were Kevin Kennedy, Abilene, TX (moderator of the meeting); Bill Carter, Tulsa, OK; Rick Brann, Cedar Park, TX; and James Adcock, Knox, IN. Evangelist in Mexico David Abbot did a tremendous job of translating the messages.
The Mexican speakers were Samuel Martínez, Pablo Seguovia, Rafael García, Aaron Rocha, Mario Carranco, Oziel Reyes, and Sergio Escoval. All of the speakers (Including the Americans) received the popular Mexican/American flag lapel pin, and the Mexican pastors also received a box of Bibles.
The theme of this year's conference was, "Striving Together" based on Phi. 1:27. There was great unity among the pastors, and every message was a great blessing and challenge to each of us. Many said that it was the best conference ever. The music was great and so was the fellowship. Our students commented on how well the preaching spoke to their spiritual needs and challenged their lives to forge on.
As always Susie did a tremendous job with the lunch menus and especially with the nine cakes she baked. Vicky Shafer and Elisa Carranco both spoke at the ladies' meeting with Susie translating for them. She had special gifts for each of the pastors' wives.
Also, a special dedication ceremony led by Kevin Kennedy was held at the old campus auditorium in remembrance of J. W. Steele and his wife Betty who are the founders of the Ambassador Institute. A special plaque was mounted on the wall and a replica provided for Mrs. Steele.
2008 Conference Speakers
AMERICAN PASTORS
Dave Shafer
Kevin Kennedy
Bill Carter
Rick Brann
Don Ledbetter
James Adcock
Steve Brown
Mike Marcellus
Kim Hayes
MEXICAN PASTORS
Mario Carranco
Pablo Segovia
Aarón Rocha
Samuel Martínez
Rafael García
Osiel Reyes
Sergio Escoval
---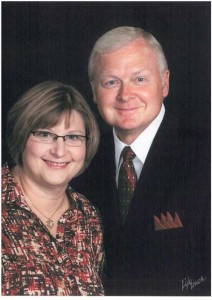 David A. Shaffer was led to the Lord by his mother at the age of 7. David married Vickie Brock on August 9, 1975. After graduating from Baptist Bible College, he worked in Wichita, Kansas, where he was ordained into the Gospel ministry. He has pastored churches in Wyoming, Oklahoma, Kansas and is currently the pastor of Trinity Baptist Church in Findlay, Ohio. The Shaffer's have 2 adult daughters: Stephanie and Teresa. 
---

Below are some pictures taken of various activities during the 2008 Conference