PRAYER LETTERS
Dear Friends in Christ,                                                                           May / June 2015
Greetings in the name of our Lord and Savior Jesus Christ.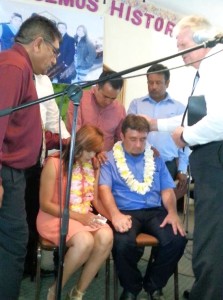 We thank the Lord for you and dee
ply appreciate your faithful prayers and financial support for the work in Mexico. We are doing well and thank the Lord for His many blessings in the ministry with the churches and Bible College.
We had a great commissioning service for our missionary couple out of the Iglesia Bautista Trinidad. There were nearly 200 present and four national pastors that participated. Special presentations of offerings, gifts, and a new study Bible were also made.
The churches had special services in honor of Mother's Day. Invitations were sent out and preparations were made with special gifts, dinners, and other activities to honor the mothers and their families. The churches saw more than 37 souls saved these two months, and at least 7 baptisms.
We had a great graduation at the Ambassador Baptist Bible College on May 1st. About 35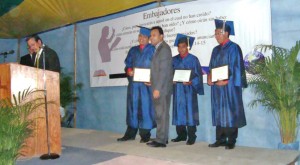 0 were present and enjoyed a wonderful dinner and celebration after the services. Three graduated this year, and they did a great job preaching in the morning session. Pastor Aarón Rocha fr
om Linares preached the challenge to the graduates at the evening service.
Also, we have the added blessing of Missionaries Steve and Heidi Reinhold coming to work with us at the Bible College. They have moved from Cuernavaca and are getting settled in to their new surroundings. Please remember them in your prayers.    God bless you all.
Yours in Christ,
Rick and Susie                                                                                  Thank you for your faithful prayers and support.
---
---